View all posts
FIRST HARVEST CREDIT UNION SUPPORTS SOUTH JERSEY FOOD BANK'S POP-UP PANTRY
09/22/2022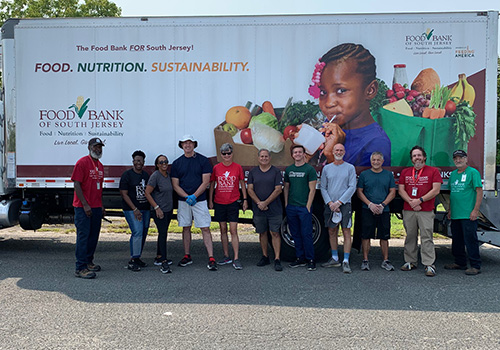 First Harvest Credit Union continues its tradition of serving the community by supporting the Food Bank of South Jersey's "Pop-Up Pantry" Program. Pop-Up Pantries are mobile food distribution events that take place in neighborhoods with high rates of food insecurity. They offer easier access to food for individuals who struggle with access due to transportation, health, childcare, and other challenges.
On Friday, September 17, First Harvest Executive Vice President/Chief Operating Officer Daniel Sulpizio volunteered at a Pop-Up Pantry event held on Academy Street in Glassboro, New Jersey. "First Harvest is committed to supporting our communities, and these mobile food distribution events are an effective way to help people who may not have the ability to travel to the Food Bank of South Jersey's main location," said Sulpizio. "Volunteering at the event and having a direct role in distributing food to the people who need it was quite rewarding, and I plan to do it again."
Other First Harvest employees and Board members have also committed to volunteer at future Pop-Up Pantries. For more information about the Food Bank of South Jersey's Pop-Up Pantries and other services, visit foodbanksj.org.